Academy Activities- ADI Comments
Non Peer-Reviewed Content
Report to the Board of Regents by Public Relations Committee Chair, Fred (Friedrich) A. Herbst December 2016–October 2017
Department of ADI Chair Public Relations, Academy of Dentistry International, Ohio, United States
*
Corresponding author: Friedrich Herbst, Department of ADI Chair Public Relations, Academy of Dentistry International, Ohio, United States. E-mail: chairpublicrlations@adint.org
Licence
This is an open-access article distributed under the terms of the Creative Commons Attribution-Non Commercial-Share Alike 4.0 License, which allows others to remix, tweak, and build upon the work non-commercially, as long as the author is credited and the new creations are licensed under the identical terms.
INTRODUCTION
My appointment by the Board of Regents, at the Meeting, December 2–3, 2016, in Rome, Italy, as non-dentist, with a 40-year manager career in the dental industry is a privilege, honor, and obligation.
BACKGOUND
Significant for the oral health profession, there is an imbalance of treatment demand and oral health services provided by organized dentistry (represented by the FDI World Dental Federation, www.fdiworlddental.org/). Key metrics show that 7.44 billion people live on the globe, and the estimated number of dental professionals is 1.9 million. At the WHO International Conference on Primary Health Care, (Alma-Ata 1978) the formula 20/80, 80/20, meaning with the age of 20 years patients to have 80% of their teeth and with the age of 80 years to have 20 of their teeth. Japan is the only country where this is a law to be met by the dental profession.
Brazil is estimated to have 8 million people who do not have teeth. Another 30 million have never been to the dentist!
Another challenge for organized dentistry is the number of elderly people in the world with the increasing demand for geriatric oral health care. A number of voluntary oral health organizations are trying to bridge the imbalance of the need for oral health and provided service. More than 200 voluntary oral health organizations exist at national and international levels, and some are entirely focused on oral health and others where oral health is recognized as critical to general health. Examples of these voluntary organization are as follows:
International level:

National level
Citation: ADI Vice President for International Affairs and Chair International services, Dr. David Alexander:
A modern-day international organization must be outwardly focused and must tell its story relentlessly. In this era of alignment of organizations around common purpose and the need for health care clinicians to cooperate, collaborate, communicate, and integrate care into teams to provide care that is continuous and reliable (Institute of Medicine), an outward focus and clear messages are essential. Through evolution of the ADI website and the elevation of the Journal of the Academy of Dentistry International, the Academy's communication channels have been amplified and their reach extended. A podium has been built from which the Academy can spread its message and move towards achieving its goals in fulfilling the mission.
The above expertly summarizes and outlines the competitive environment and challenge to promote ADI international in acceptance, recognition and new heights in fellowship national (North America), international, and globally.
ACTIVITIES
Activities of the Public Relations Committee, since December 2, 2016, are as follows:
Dubai, AEEDC, February 7–9, 2017 support of Dr. Shiva Mortazavi, Congress attendance, Convocation 4 new fellows inducted.

Report: Public Relations Committee, (Monthly Call), challenges of Public Relations, 4 pages.

Chicago Midwinter Meeting February 23–26 Introduction of President Dr. T. Bob Davis at the ADA Headquarters to the Editor of ADA News to report about the Guatemala Spring Break, 16 dentists and 50 dental students. The article was published April 10, 2017 in ADA News, 170,000 copies.

Chicago, Sunday February 26 ADI Breakfast, ad hoc Executive Council Meeting, first proposal for an ADI regularly Regent Report.

Cologne, Friday March 24 German Dental Association Coordination Conference. Attended by >60 individual German or German-based Oral Health aid organizations. Annually, those groups invest ca. 16 million €uro in national and international oral health aid activities through manpower and in-kind contributions.

During the conference, contact was made with the German Federal Ministry for Economic Cooperation and Development, Deputy Director General Hans-Peter Baur and Dr. Baliddawa Hannington, President Uganda Dental Association.

Meanwhile, in cooperation with the University of Mainz Dental 50.000 for an oral health camp in Uganda for the Kaberamaido conurbation. The decision by the Federal Ministry is expected, early November 2017.

Cologne IDS, March 21–25, 2017, with >150,000 attendees. The world largest dental convention ADI convocation, Saturday, March 25, induction of 17 new fellows under the auspice and great support of President-Elect Dr. Gerhard Seeberger, Dr. David Alexander, Professor Claudio Fernandes, and Dr. Dietmar Klement.

Cologne offered the welcome opportunity for President-Elect Dr. Gerhard Seeberger, Public Relations Chair to meet with the President of the International Federation of Dental Hygienists, www.ifdh.org Ms. Robyn Watson, Sydney University, Faculty of Dentistry.

Dr. John Pearman, V.P. Finance and Administration will pursue this Contact.

EC Tele-conference, April 8, summary of the period, February–April 2017 please refer to the Chair Public Relation report for the (enclosed).

EC Tele-conference, May 12, A detailed report (4 pages) was delivered. Available on request.

Executive Council Meeting, June 2–3, Dallas Texas, at the Presidents house open topics, unfinished business for the BoR Meeting:

ADI Regent Report form for motion by the BoR.

John Halton, initial assessment for ADI fundraising, at Correspondence, President Dt. T. Bob Davis, August 23rd.

ADI website improvement for easier maneuverability by IT immigrants, users who seldom visit the website. Easier annual dues payment functionality. The required budget will be presented before the Atlanta, Georgia BoR, October 16–18.

EC Teleconferences (for the records).

July 7th main topic ADI Bylaws. Attendance with Dr. John Pearman during his visit with family in Paris, France.

August 4th (absent due to summer vacation).

September 8th main topic, ADI Bylaws, reports on Madrid.

FDI, World Dental Federation Congress, Madrid, August 29–September 1. www.fdiworlddental.org ADI, is an affiliated member for >2 decades.

FDI has five Standing Committees, each with a particular sphere of activity and expertise. They are accountable and report to the Council.

I attended the Liaison and Membership Committee meeting introducing ADI tasks and goals, documented by the ADI image brochure with the request to consider the ADI expertise for the committee, see enclosure.

Meetings were held together with Dr. David Alexander, Dr. Bob Edwab GNYDM CEO. Re the program for the meeting, Sunday, November 26, –Wednesday, November 29, 2017, enclosure.

AEEDC Dubai, February 6–8, 2018, meeting with Dr. Mohammad Abedin, member of the organizing committee, Dr. Matios Tcholokian, Senior business developer, Dr. David Alexander. AEEDC will provide.

ADI 2018 again a free stand. 2019 a slot may be available for ADI on the Scientific program, conditional adherence to the following rules:

To be Non-political.

The speaker whenever possible to come from the region. As a lecturer from one of the universities in the MENA region, Middle East, North Africa or to practice, preferably in a practice of his own in the region.

The lecture content should not give any cause for not easily comprehensible risks. Scientific consultant of the executive board of Council for the health minister of the GCC, Gulf Cooperation Council States is Professor Abdullah Al Shammery Dean of the Riadh colleges of Dentistry and Pharmacy. Dr. Mohammad Abedin suggested, to contact him 5–6 weeks before the AEED C, 2018.
BROCHURE
ADI Brochure, Sharing Knowledge - Serving People
A broad understanding of what ADI is, what it stands for, and how it achieves its mission is critical for member acquisition and retention as well as seeking support and cooperation from organizations and individuals who share common interests. Print and online media are essential channels for this. The giving of a print brochure gives synergy to a conversation and serves to keep ADI top of mind.
The first layout was presented on June 2 in Dallas. The Executive Council had agreed to ask for a quotation. The quotation by the agency Acht, Cologne, was approved on August 26. 500 copies were delivered to Madrid, Spain, for distribution at the World Dental Congress and to National Dental Association and corporate leaders in attendance.
The ADI Brochure can only be the first step. In today WiFi world, the update of the ADI website is the next urgent step. Thank you for your attention!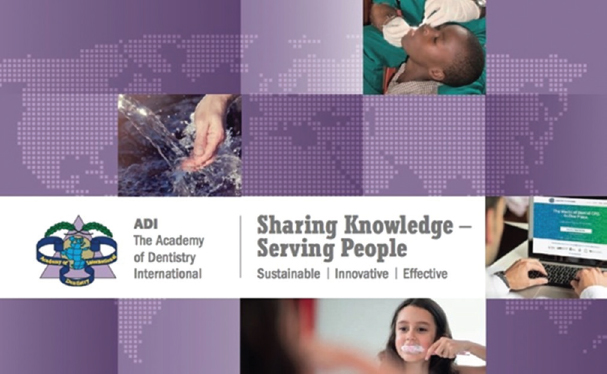 "Public relations" by itself can't strengthen ADI. Public Relations is a strategic communication process that requires thorough analysis to build mutually beneficial relationships between the organization and their publics." This is best summarized by Dr. David Alexander in his:
CLOSING THOUGHT
To become a high-performing organization, it behooves ADI to look closely at itself and the landscape in which it operates to formulate appropriate strategic and business plans.
Regarding the international portfolio, the following is offered as a closing thought which should be tightly integrated with all other lead functions.
| Strengths | Weaknesses |
| --- | --- |
| Diversity and professional talents of fellows around the globe | Vacancy for Editor |
| Unique position within the UN | Lack of editorial execution and publication plan |
| Website | Declining dues-paying membership |
| JADI | Legal domicile |
| Opportunities | Threats |
| UN SDGs | Finances |
| Structure of the ADI and its regents | NGOs for oral health under a broad constituency (not limited to dentists) |
| Collaboration/synergies with non-dental NGOs | |
| Broaden membership base | |
Show Sections