Journal of Global Oral Health
Sharing Knowledge of Oral Health to improve the quality of life throughout the world.
Journal of Global Oral Health is a peer-reviewed international journal founded by highly reputed dental professional from across the globe.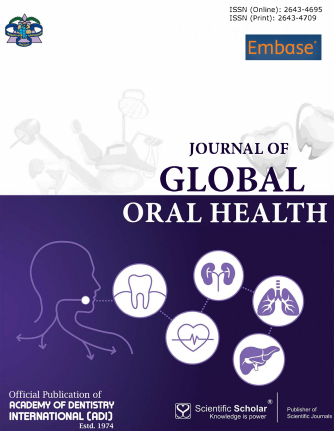 Abstracting and Indexing Information
The journal is registered with the following abstracting partners:
Google Scholar, CrossRef, ReadCube, International Committee of Medical Journal Editors (ICMJE), Index Copernicus
Recently Published Articles
Ankita Kar, Shaswata Karmakar, Vishal Rao
Amrita Jaggi, C. M. Marya, Sukhvinder Singh Oberoi, Ruchi Nagpal, Sakshi Kataria, Pratibha Taneja
Academy Activities
Read our recently published Academy Activity papers which includes details of ADI International Projects, ADI Comments, ADI Convocations and ADI Cover Stories etc.