Journal of Global Oral Health
Sharing Knowledge of Oral Health to improve the quality of life throughout the world.
ISSN (Print): 2643-4709, ISSN (Online): 2643-4695
Frequency of publication: Semiannual | Language of publication: English
Starting year: 2018 | Format of publication: Print + Online
Journal of Global Oral Health is a peer-reviewed international journal founded by highly reputed dental professional from across the globe.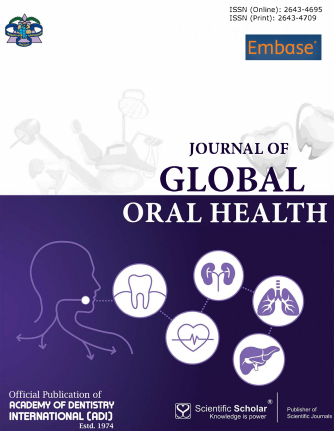 Abstracting and Indexing Information
The journal is registered with the following abstracting partners:
EBSCO, Google Scholar, ProQuest, ReadCube, CrossRef, Portico
Recently Published Articles
Michael Anthony Foley, Ratilal Lalloo, Andrew John Spencer, Loc Giang Do
N. B. Ameena, Subramaniam Ramanarayanan, Suneesh Kuruvilla, Pooja Latti
Dharmashree Satyarup, Manish Kumar, Radha Prasanna Dalai, Sourav Chandra Bidyasagar Bal, Sailaja Panda
Academy Activities
Read our recently published Academy Activity papers which includes details of ADI International Projects, ADI Comments, ADI Convocations and ADI Cover Stories etc.