Journal of Global Oral Health
Sharing Knowledge of Oral Health to improve the quality of life throughout the world.
ISSN (Print): 2643-4709, ISSN (Online): 2643-4695
Frequency of publication: Semiannual | Language of publication: English
Starting year: 2018 | Format of publication: Print + Online
Journal of Global Oral Health is a peer-reviewed international journal founded by highly reputed dental professional from across the globe.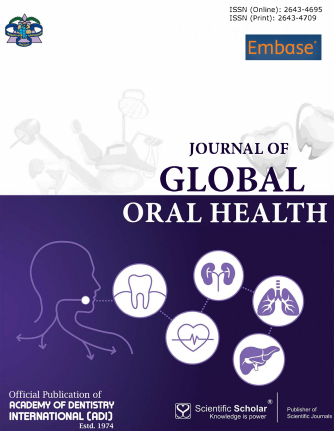 Abstracting and Indexing Information
The journal is registered with the following abstracting partners:
Google Scholar, CrossRef, ReadCube, Index Copernicus, EBSCO Publishing!s Electronic Databases, Scilit, China National Knowledge Infrastructure (CNKI), Wang Fung
Recently Published Articles
Amit Kumar, Soni Rajput, Manjunath P. Puranik, Ankit Mahesh Patel
Sanpreet Singh Sachdev, Tabita Joy Chettiankandy, Manisha Ahire Sardar, Easwaran Ramaswamy, Aakruti Mahendra Shah, Kalyani Yaduwanshi
Academy Activities
Read our recently published Academy Activity papers which includes details of ADI International Projects, ADI Comments, ADI Convocations and ADI Cover Stories etc.