Translate this page into:

doi:
10.25259/JGOH_30_2020
An overview of teledentistry with a cross-sectional study on relevant knowledge and attitude of dentists in Mumbai
1
Department of Orthodontics and Dentofacial Orthopedics

,

MGM Dental College and Hospital, Mumbai, Maharashtra

,

India
2
Department of Oral Pathology and Microbiology

,

Government Dental College and Hospital, Mumbai, Maharashtra

,

India
3
Department of Public Health Dentistry

,

Y.M.T Dental College and Hospital, Navi Mumbai, Maharashtra

,

India

*
Corresponding author: Sanpreet Sachdev Singh, Department of Oral Pathology and Microbiology, Government Dental College and Hospital, Mumbai, Maharashtra, India. sunpreetss@yahoo.in
Received: , Accepted: ,
© 2020 Published by Scientific Scholar on behalf of Journal of Global Oral Health
Licence
This is an open-access article distributed under the terms of the Creative Commons Attribution-Non Commercial-Share Alike 4.0 License, which allows others to remix, tweak, and build upon the work non-commercially, as long as the author is credited and the new creations are licensed under the identical terms.
How to cite this article: Save SS, Singh SS, Kalra DD, Jhaveri ST, Avhad SK. An overview of teledentistry with a cross-sectional study on relevant knowledge and attitude of dentists in Mumbai. J Global Oral Health 2020;3(2):101-9.
Abstract
Objectives:
Teledentistry is a relatively novel aspect, wherein digital telecommunication modalities are effectively employed for transferring data such as images and videos between dental professionals and patients that are physically separated across a distance. The concept could be essentially beneficial in improving the provision of oral health care to patients in rural areas and remote locations, especially in situations such as the present COVID-19 pandemic.
Materials and Methods:
Dental professionals having at least a graduation degree (BDS) were considered eligible for the study. A self-constructed e-questionnaire comprising 15 questions was validated and then circulated online with the aid of messenger applications and emails to the eligible participants. The data were analyzed based on age, gender, qualification, and years of experience for the dentist-based survey using the Chi-square test.
Results:
Our results indicate that only 55.6% of respondents had come across this relatively novel concept of digitalized health care provision with only 43% being aware of the modalities that can be utilized for the same. A significant portion (70–80%) of the respondents supported the utility of teledentistry in various specialization branches of dental practice.
Conclusion:
Despite multiple benefits of teledentistry in various aspects of the field of dental practice and education, its use is still limited due to relative unawareness. With the present technology available across dental clinics even in rural areas, it is now more feasible and simpler to incorporate teledentistry into one's dental practice subsequently improving the quality of the oral health care system.
Keywords
Telemedicine
Oral health
Oral diagnosis
Public health dentistry
Continuing dental education
INTRODUCTION
The concept of telehealth or telemedicine involves the utility of electronic telecommunication devices to transmit videos, audio, and images for the provision of health care facilities, wherein the participants involved are physically separated over a distance.[1] It employs telecommunication technology, digital imaging, and the Internet to provide teleconsultation, exchange health information, and maintain electronic health records across long distances.[2] A similar application of this concept in the field of dentistry is known as "Teledentistry." Cook (1997) had defined teledentistry as "the practice of using video conferencing technologies to diagnose and provide advice about treatment over a distance."[3]
Teledentistry has been practiced in various developed countries throughout the world; however, its use in India is quite limited. This could be possibly due to a lack of awareness and knowledge among dental practitioners regarding its use in daily practice. Even so, a significantly major portion of Indian population resides in rural areas and remote locations, rendering it imperative for commencement and inclusion of teledentistry across the country.
In addition, in the wake of COVID-19 pandemic, where social distancing norms are mandatory to be followed, teledentistry could certainly be used as an efficient and effective tool to obtain distant consultancies from specialized professionals of various branches of dentistry.[4] Herein, yet another application of this concept in such situations could be in the formal online education of the dental students, which may comprise either of the two modalities: Web-based self-instruction and interactive video conferencing.[5] It can also be used as a tool for continual dental education of the professionals to keep them up-to-date with advances in the field of practice.[6]
In this context, we aimed to assess the knowledge and attitude of dentists in the city of Mumbai regarding teledentistry by means of an e-questionnaire survey. The study would achieve the objectives to evaluate the awareness of dental professionals regarding the applicability and feasibility of a relatively novel concept of teledentistry and their recognition of its potential in the field of dental practice.
MATERIALS AND METHODS
A self-constructed questionnaire of 15 questions (attached as annexure 1), which was pilot tested for face and content validity with a team of four researchers, including a public health expert. The questionnaire was prepared after a detailed search of published data available with respect to teledentistry in the fields of tele-education, tele-diagnostic, teleconsultation, and telemonitoring. A total of 20 respondents participated in the pilot study, the data of which were not included in the final study. The reliability of these questions was tested using Cronbach's alpha analysis. A Cronbach's alpha value of 0.895 indicated a good internal consistency and validity. A self-constructed questionnaire was constructed using Google form. Dentists with BDS and MDS degree were included in this survey. Online platforms such as emails, WhatsApp, and other social media were utilized for distribution. The participants were encouraged to share the survey to their contacts as well, for increasing the participation and response rate of the questionnaire. The link was forwarded to many people.
Sample size
The sample size was determined using a single proportion formula
Where p = Estimate of the expected proportion, d = Desired level of absolute precision
Assuming the current prevalence/event rate to be at least 10% and keeping 5% confidence limit, for p = 0.05
n = 138
It was estimated that 138 respondents should complete the survey. The respondents were sampled by utilizing a purposive sampling method [Figure 1].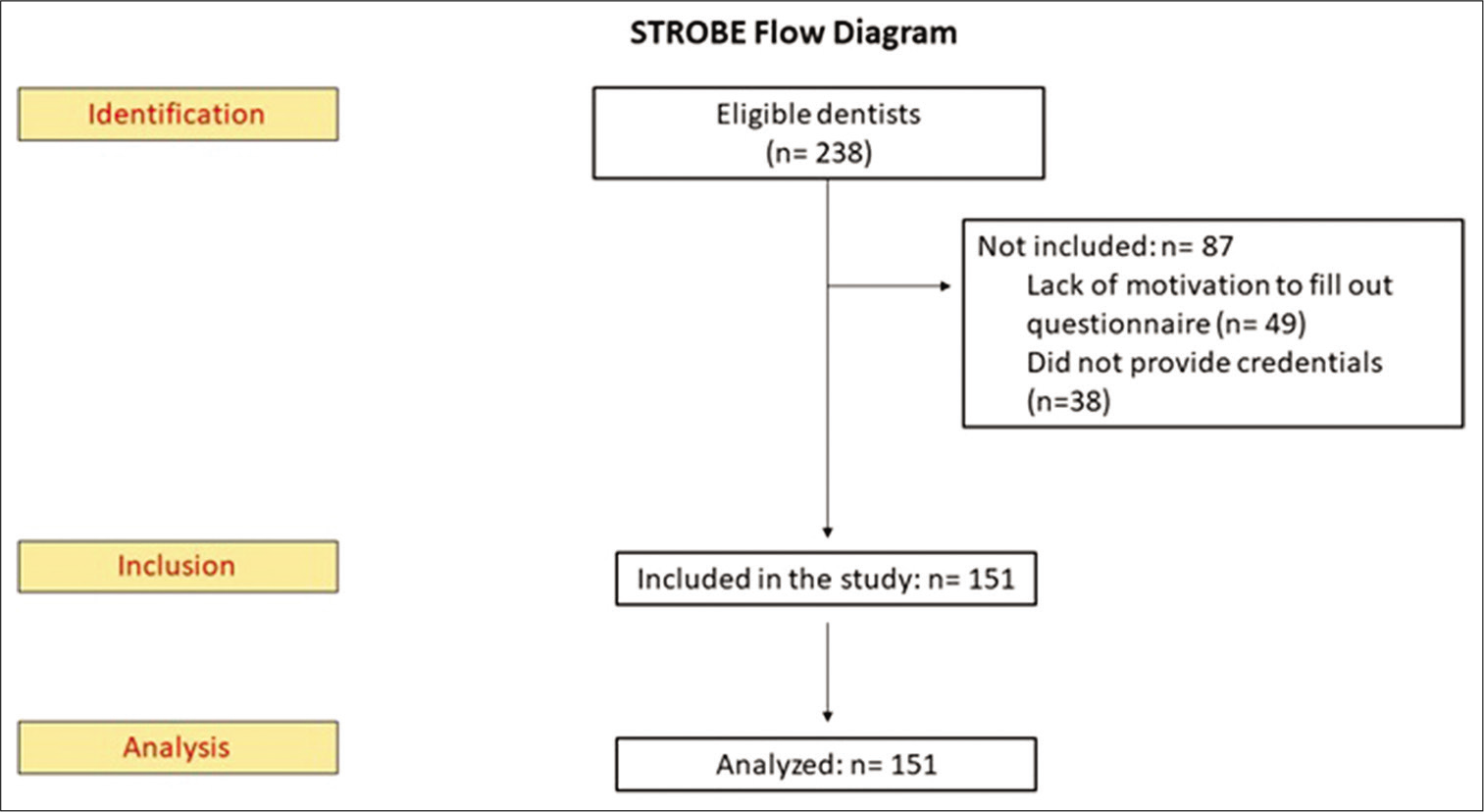 Statistical procedures
The filled responses obtained from the online platform were transferred into a Microsoft Office Excel Sheet (v 2010, Microsoft Redmond Campus, Redmond, Washington, United States). The compiled data were subjected to statistical analysis using Statistical Package for the Social Sciences (SPSS v 21.0, IBM). Descriptive statistics such as frequencies and percentage for categorical data and mean and SD for numerical data have been depicted. A comparison of frequencies of categories of variables and responses with demographic variables was done using Chi-square test. For all the statistical tests, P < 0.05 was considered to be statistically significant, keeping α error at 5% and β error at 20%, thus giving a power to the study as 80%.
RESULTS
The total number of respondents was 151, of which 52 were male and 99 were female with age ranging from 22 to 65 years with a mean age of 25.72 years. The minimum eligibility criteria were having an educational qualification of at least a graduation degree (BDS). A total of 116 of the eligible respondents had a BDS degree and 35 respondents had an additional qualification of MDS.
With the advent of newer technologies in every aspect of human life, we are now in an era wherein the people are not merely using technology but "living technology." The field of dentistry has improvised drastically over the last century ever since its inception and incorporation of the latest technologies have always led to a more efficient provision of care to the patients. However, our results indicate that only 55.6% of respondents had come across this relatively novel concept of digitalized health-care provision with only 43% of respondents being aware of the modalities that can be utilized for the same. A statistically significant difference was found for the frequencies between the groups (P < 0.01, 0.05) with a higher frequency of BDS professionals being unaware of the various technologies involved in teledentistry as compared to those with MDS qualification [Table 1]. On illumination of the utility of the modality in various aspects of dentistry, the frequency of respondents confident with respect to these is summarized in [Figure 2], each of which aspect is subsequently discussed hereafter.
Present qualification
Total
Chi-square value
P-value of chi square test
BDS
MDS
Q3
No
73
13
86
Yes
43
22
65
7.293
0.007**
Total
116
35
151
DISCUSSION
American Dental Association has come up with four modalities for teledentistry, including Live video (synchronous), Store-and-forward (asynchronous), Remote patient monitoring (RPM), and Mobile health (mHealth).[7] The synchronous approach is a real-time, twoway interaction between a patient and a provider, or between providers themselves, usually accomplished through video. The asynchronous method involves the transfer of data (radiographs, intraoral imaging, video, and charting) to a dentist for the purpose of remote evaluation and diagnosis of the patient. Recent studies have found out that messenger apps such as WhatsApp messenger are the most frequently used synchronous modality by the physicians as well as the patients due to their relatively simpler and user-friendly interface.[8] Apart from messenger apps, various video conferencing apps and smartphone applications that enable transmission of data in the form of images or videos can be effectively employed.
CONCLUSION
The numerous benefits of teledentistry in improving the quality of dental care in almost every aspect of dentistry, which is backed up by adequate scientific literature, should not be overlooked. The issues barring the inclusion of teledentistry into one's clinical practice, such as relative unawareness of the concept and myths about its technical requirements, need to be addressed earnestly. Our study results confer that although most of the dental professionals believe teledentistry could be beneficial in education and diagnosis, not many are aware of its potential in various possible applications that would greatly augment the quality of dental care provided to the patients. Such applications make teledentistry a quintessential modality in the provision of oral health care and education in the current pandemic situation. Thus, teledentistry allows collaboration of various dental professions and elaborating the age-old fundamental of multidisciplinary approach by enhancement through use of digital technology, giving it a new outlook.
Declaration of patient consent
Patient's consent not required as patients identity is not disclosed or compromised.
Financial support and sponsorship
Nil.
Conflicts of interest
There are no conflicts of interest.
SUPPLEMENTARY MATERIAL
Assessment of knowledge and attitude of dentists in India related to teledentistry – An e-questionnaire survey
Kindly mark appropriate answers. All the information provided will be kept confidential. We, Department of Public Health Dentistry, YMT Dental College and Hospital, thank you for your valuable time and support. Kindly mail us in case of any queries at: siddheshsawe@gmail.com
Teledentistry is defined as "the use of electronic communication and information technologies to provide or support clinical care at a distance."
Demographic data:
Age

Gender

Field of work

Private practice

Institutional: Govt College Private College

Qualification

Experience – (in years).
For post graduates (current status of curriculum):
Section II:
What aspects do you think teledentistry will be useful in the field of dental practice and academics?

Gain knowledge from foreign delegates by means of webinars

Patient diagnosis/screening

Obtaining opinion from a specialty dental professional (e.g.: Orthodontist)

Patient referral to specialty dental professional

All of the above

None of the above.

Have you come across the use of telecommunication for the purpose of diagnosis/screening of any patient in your practice/institution?

Are you aware of any applications/technology that are used in teledentistry for patient monitoring/screening?

Do you think teledentistry will be beneficial for prompt diagnosis of oral lesions of patients in rural areas that have limited access to oral health care?

Do you think practitioners in rural areas will be able to access at least minimal technology required for teledentistry, that is, Internet, phone/computer?

Do you think teledentistry can enhance quality of prosthetic work by facilitating visual communication between dentist and laboratory technician?

Can teledentistry be utilized for consulting the orthodontists by a general dentist to deal with certain issues of patients undergoing orthodontic treatment?

Can teledentistry be utilized by a general dentist for canal location by seeking help from endodontist?

Can teledentistry be utilized by a dentist/surgeon for obtaining guidance relevant to biopsy site from a pathologist?

Will it help general dentist for seeking advice for radiographic opinion from more experienced professionals/radiologists?

Can teledentistry be utilized by a dentist/surgeon for collaborating with doctors from other fields such as pediatricians, orthopedic doctors, etc.?

Do you think minor complications encountered by a relatively unexperienced dentist could be resolved by obtaining guidance from a relatively experienced professional using teledentistry?

Do you think teledentistry would lead to better diagnosis and provision oral care as compared to that diagnosed by a single dentist?

Do you think teledentistry would be essentially beneficial in times of situations like the present COVID-19 pandemic for academic and diagnostic purposes?

What level of additional technical skills would a dentist need to acquire for inclusion of teledentistry into his academic/practice?

None required

Simple

Moderate

Complex

Not sure.
Show Sections